Realized projects
Controlled neutralization in laboratory scale - IANCH Řež
System can write output data to computer via ethernet. This is realized by sending data in text format.
Regulation of pH is done by controlling of flow via dosing pump FEM/STEPDOS in interval ±0.1pH.
Signal from pH electrode is transmitted via current loop.
Calibration of pH electrode is done on driving system.
Controlled neutralization in laboratory scale - VŠCHT Praha
Similar realization as in IANCH Řež.
Included support for older types of dosing pumps STEPDOS.
Neutralization station Liglass, a.s.
System neutralizes industrial waste water in conformance to standarts (to pH 6-9).
The volume of titrated waste water is about 25 m3. In this volume pH must be kept in allowed limits.
Momentally in testing operation.
Measuring set for Institute of hydrodynamics AVCR
We prepared special selective and redox electrodes with maximal diameter of 5mm.
We also developed suitable software for simultaneous logging of pH and redox potencial or concentration.
For gathering of data from redox and selective electrodes were used two converters MPH71.
USB milivoltmeter USB-M15
This instrument is able to sample signals from 15 selective (or REDOX) electrodes simultaneously using common reference electrode. Data are transmitted via USB port to PC. USB isolated from analogue part galvanically to avoid ground loops. The instrument is suitable for applications like chemical nose.
15 inputs, each with input impedance higher than > 1012 Ohm
One temperature probe input for PT1000, NI1000 or ATC
Powered by USB, no external supply needed
Small dimensions - only 110 x 95 x 50 mm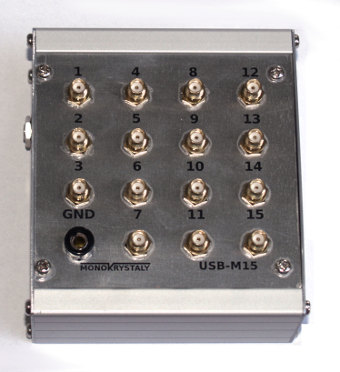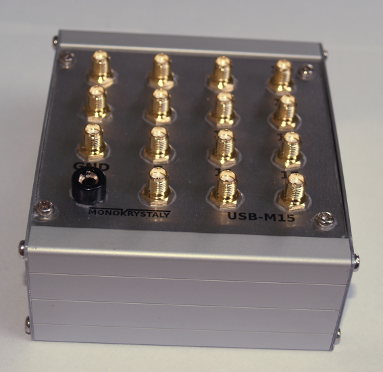 Panel conveter pH/mV/ion - current loop
It is re-made variant of MPH71 for panel mounting and suplying by 24V. It has quite small dimensions: 96x46 mm, montage depth 80 mm. It has LED display, so the value is always perfectly readable.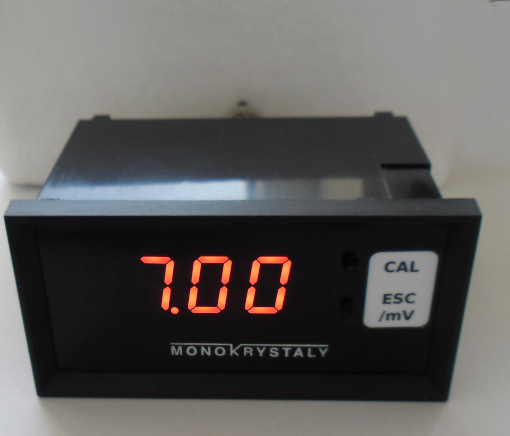 Monokrystaly, s.r.o
, Přepeře 297, 512 61 Přepeře, Czech republic
Tel: +420 481 325 857, Tel/Fax: +420 481 313 200, Mobile: +420 775 325 857