LC and Frequency meter
A lot of functionality in small box
Do you need frequency counter, tunable DDS sine generator and LC vector analyser in small box (110 x 80 x 40mm)? Then our LCF meter is right for you! This small instrument is capable not only of these things, but it is able for example measuring of harmonic distortion. You can find complete feature list bellow.
Key features of LCF Meter
Small and compact with lot of features. If you want better or comparable instrument, you will probably buy an counter, RC network analyser and distorsion meter (three big boxes instead of small one).
On-the fly FFT enables measurement of harmonics in time. Theoretical limit of FFT module is 5MSPS on the fly for single frequency FFT.
Wide range of DDS frequencies 1Hz - 1MHz.
Can be clocked externally, using for example FE5680A rubidium frequency standart.
User settable 2.5V CMOS PLL output allows independent frequency sourcing. Frequency can be set between 1 and 300 MHz.
Built-in 1-, 2-, 5-, 10- and 20 kHz low-pass filters can be used for reduction of DDS generator distortion.
12-18V voltage operation so it could be battery operated.
Output AC voltage offset adjustment for DC current reduction.
Has a RS232/RS485 interface with simple text protocol for easy implementation by 3rd party software.
Special spears for measuring low capacitances (with resolution in tenths of fF).
How it works
Heart of instrument is a FPGA circuit which is able to calculate FFT on the fly. It is also able directly measure frequency upto 300MHz and periode with resolution of 10ns.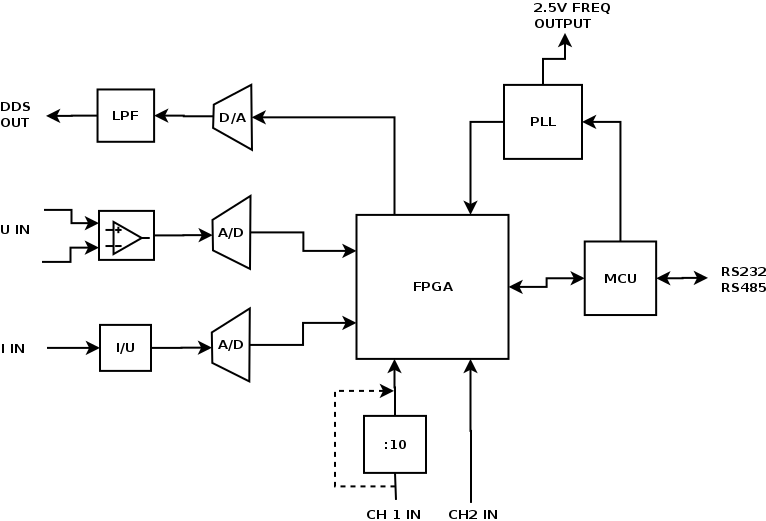 For measuring inductance and capacitance it uses fact that phase between current and voltage in serial circuit is shifted. Instrument calculates real and imaginary part of the impedance and from that it calculates inductance and capacitance.
Harmonic distortion could be calculated from amplitude of higher harmonics. Instrument can handle measure upto 32 harmonic frequencies simultaneously.
LCF Meter can be used for these kinds of measurement:
Measuring inductors, capacitors
Measuring RC/RLC networks frequency characteristics
Measuring harmonic distortion.
It is possible to use it as sinewave frequency source in range betweeen 1 Hz and 1MHz.
Counter working upto 1GHz with divider 1:10 or 300 MHz without divider
Measuring phase between two signals with resolution of 10 ns
Measuring measuring on/off time of signal with 10 ns resolution
Measuring selected frequency AC signal amplitude
Measuring range of the instrument
Inductance range:

For error better than 1%: 100 uH - 10H
For error better than 5%: 100 nH - 1kH

Capacitance range:

For error better than 1%: 10pF - 10uF
For error better than 5%: 1pF - 10mF

Resistance range:

For error better than 1%: 10 mOhm - 10 MOhm (at 1kHz)
For error better than 5%: 10 MOhm - 100 MOhm (at 1kHz)

Impedance curve measurements:

It is possible to measure impedance from whole range (1Hz - 1MHz)
Impedance range working in whole frequency range: 1 Ohm - 10 kOhm
Impedance range working from 1kHz to 100kHz: 10mOhm - 1MOhm

Harmonic distorsion (with lowpass filter at 1, 2, 5, 10 and 20 kHz):

Internal harmonic distorsion on level of 0.02% (80dBc for 2nd and 3rd harmonic)
Autoranging 100mV/1V range

Frequency measurements:

Timebase 1s or 10s
DC/AC coupling
300MHz range for both channels
1GHz for the first channel with built-in divider

Phase and periode measurements:

Resolution: 10ns
Maximum periode duration/phase delay: 10s
Examples of the measurement of impedance curve
Impedance curve of the LC circuit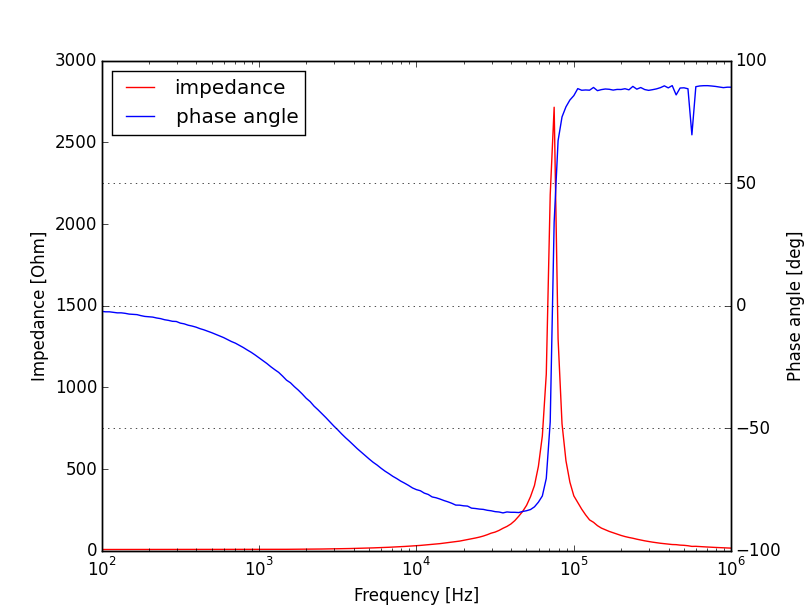 Impedance curve of the small speaker: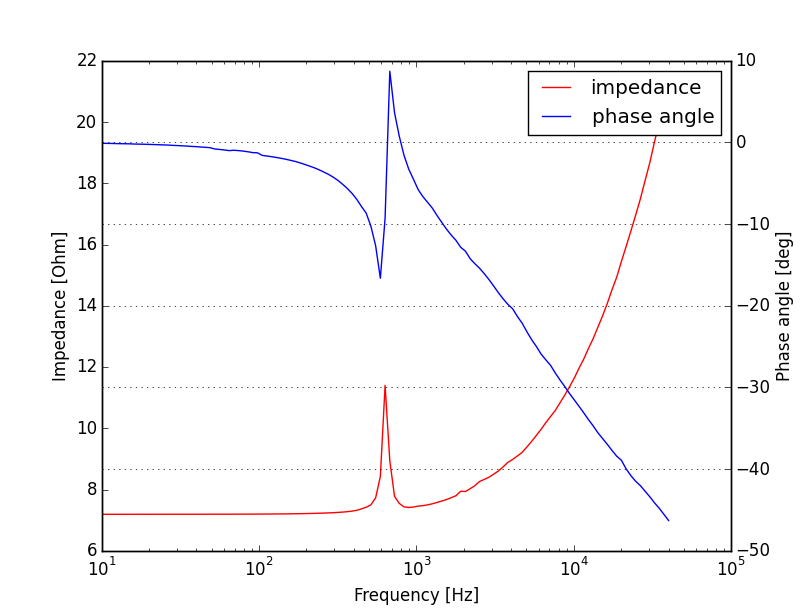 Impedance curves were generated using NF scan tool.
Monokrystaly, s.r.o
, Přepeře 297, 512 61 Přepeře, Czech republic
Tel: +420 481 325 857, Tel/Fax: +420 481 313 200, Mobile: +420 775 325 857